Audit of financial statements
- Do you want to be sure that your accounting and taxes are in order?
- Do you want to avoid problems with tax authorities?
- Do you want to identify reserves and to get early warning of risks?



During auditing the financial statements of organization we review accounting and tax principles used, we check accounting procedures and compliance with accounting legislation. We identify possible mistakes thereby increasing certainty as well as providing a guarantee of the correct accounting outputs; which are the basis for right decisions of management.
Our offers:
• placing emphasis on personal approach and long-term relationships with clients
• quick and flexible services
• standardized working processes
• adequate pricing
• ongoing consulting
Obligatory audit of financial statements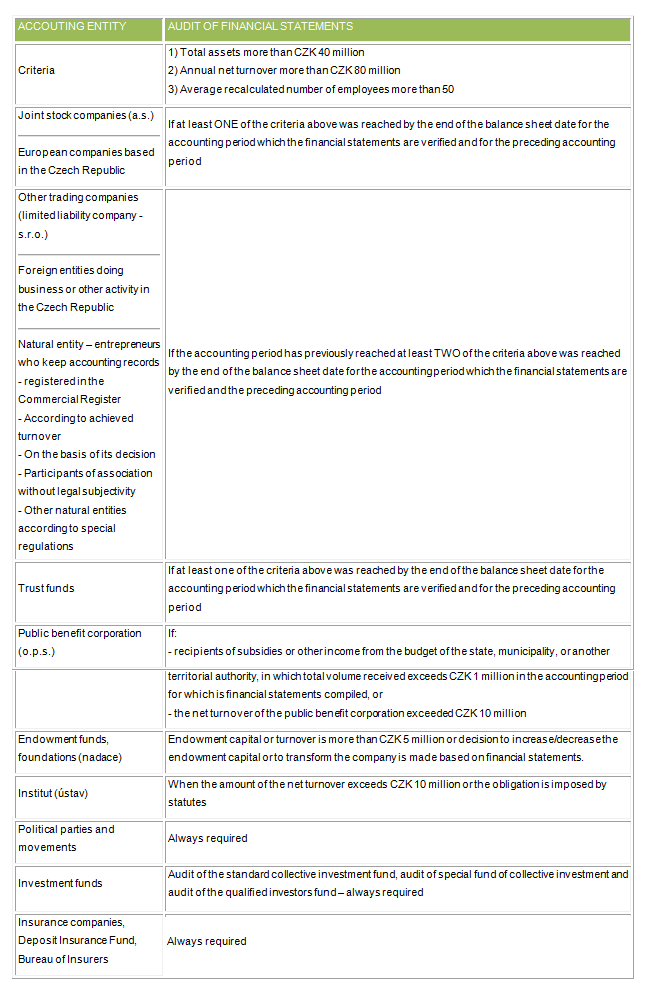 How the audit is performed:
- We agree on conditions of our cooperation and sign a contract.
- We prepare the schedule for audit work in cooperation with you.
- We evaluate risk areas of the company and prepare a program of controls.
- We perform tests of selected data and accounting documents at your company location or in our office.
- We prepare a list of necessary additions to the audit.
- We check whether all information is available to complete required tasks.
- We discuss a draft report and the auditor's letter at a common meeting.
- We release the auditor´s final report and a letter which states recommendations about internal controls, possible improvements, and minor imperfections which do not affect the auditor's opinion.
Testimonials about us

"Company AUDIT DANĚ CZ s. r. o. cooperates with OHK Liberec on several projects that have been financed by European Union since 2011. Cooperation takes place without any complications in all cases. Team of auditors was always precise and responsive, communication with the company AUDIT DANĚ CZ s. r. o. was without any problems. If necessary they explained ambiguities and gave advice to solve any minor inaccuracies in project management agenda. Thank you for the cooperation."


| | |
| --- | --- |
| Vendulka Hamříková, project and financial manager of District Chamber of Commerce in LIBEREC | All credentials |